Ask the Experts: DecoMetal® Metal Laminates
In a continuing series on Formica.com, we have teamed up with the Formica Group Technical Team to answer some of the most common questions we receive from fabricators about our surfaces. Of course, if you have specific or unique questions, you can always reach us directly at 1-800-FORMICA (367-6422), but you may be able to find a quick answer to a common question below.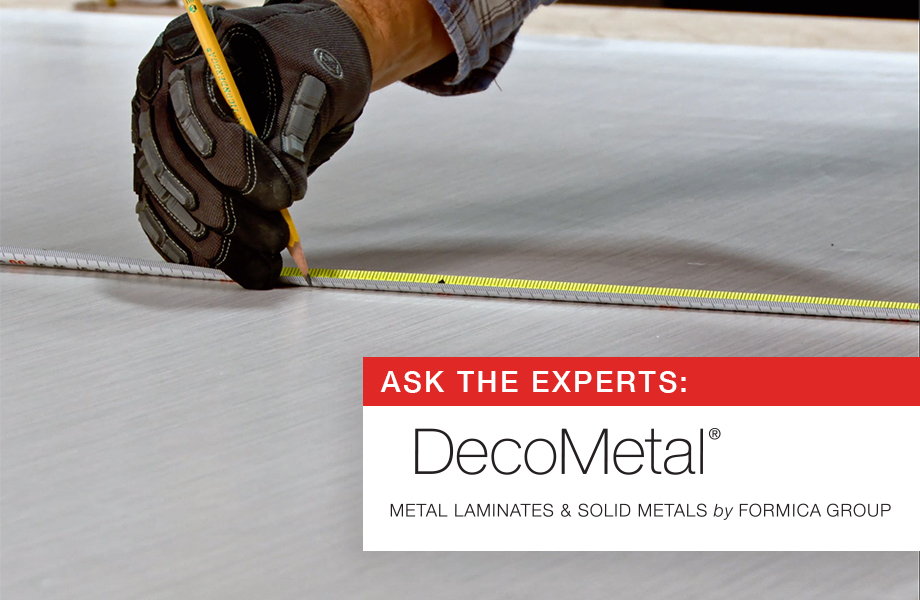 Today, we're looking at DecoMetal® Metal Laminates.
What are some common applications of DecoMetal® Laminates?
DecoMetal® Laminate and solid metals deliver lustrous color and sheen to vertical surfaces in just about any environment. We see DecoMetal® used frequently as wall coverings (especially behind reception desks or in lobby environments), but it's also perfect for furniture, retail fixtures, signage, exhibits and displays.
We do not recommend DecoMetal® for heavy-duty horizontal applications such as kitchen countertops or break room settings which can be subjected to extensive wear.


What's the easiest way to cut DecoMetal® Laminates?
Please see our technical brief for more complete information, but our technical team provides the following tips:
Use a variable speed router set at the slowest speed
Use the Invectra bit by Amana – this bit is designed specifically to cut DecoMetal®
Feed the material into the router at a higher feed speed
Finish the edges with a file
Exceptions: M2178 Brushed Stainless Steel and solid metals should be made oversized and cut to size with clean, sharp carbide saw blades.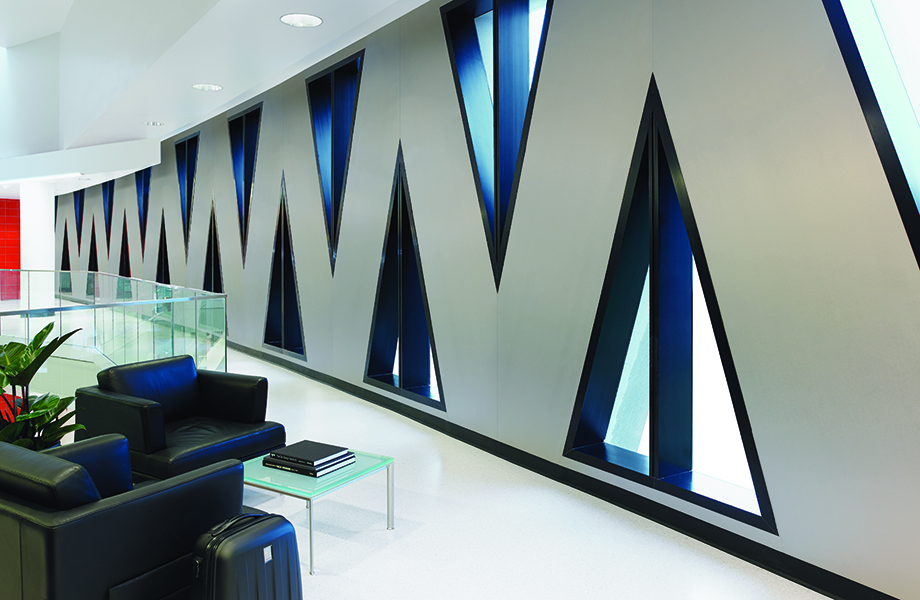 What substrates can I use with DecoMetal® Laminates?
Our top recommended cores for DecoMetal® Laminates are 45# density industrial grade particleboard or medium density fiberboard (MDF). The MDF is highly recommended for mirror finishes to minimize telegraphing.

The only substrate recommended for the solid metals are hardwood-faced veneer core plywood.


Any other things I should know?
Yes! M8547 Oxibronze is hand finished by craftsmen. The layered process of polishing, staining and re-polishing real brass foil results in each sheet of Oxibronze being totally unique. Please note that each sheet will have a clearly visible seam centered down the length.

Also, DecoMetal® is directional. Keep all the directional arrows on the peel coat going the same direction to avoid unwanted color variances.

Learn more DecoMetal® tips on the pro resources page.