5 Ways to Personalize Your Child's Bedroom
Remember when you were a kid and decorated your ceiling with glow-in-the-dark stars and ripped out ads from all your favorite magazines to hang on your walls? You probably even had a friend whose mom let her draw on her bedroom walls, which automatically made her house the coolest place to be for slumber parties.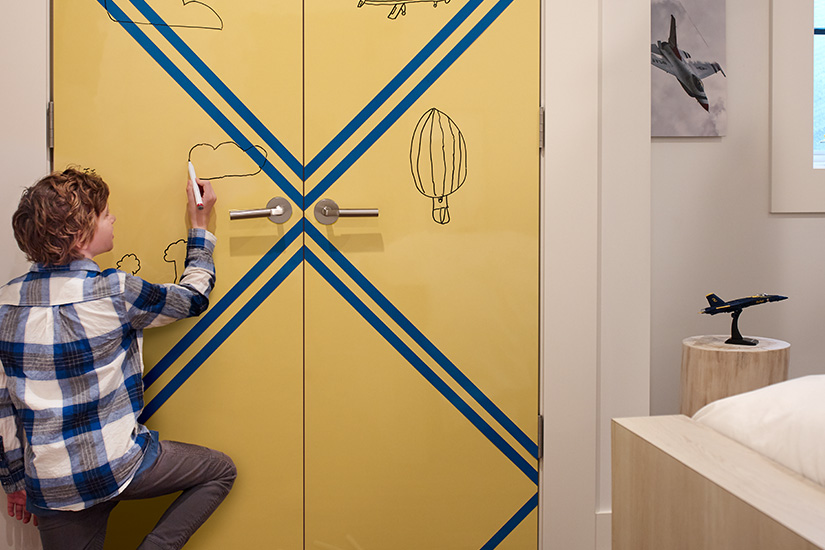 Today there are a plethora of fun and easy ideas floating around the Internet, from writable surface walls your kids can doodle all over to Instagramable art. Below are five simple ways to personalize your child's room—the only downside is that "go to your room!" will no longer be a form of punishment.
1. Foster their current obsessions
When I was about 10, I suddenly become obsessed with all things celestial. I told my mom I wanted to paint my walls dark blue like the night sky, and much to my surprise and delight, she didn't object (though I knew she didn't completely understand my artistic vision).
She took me shopping and let me pick out gold picture frames, used astrology books, cool antiques, and a huge replica of Van Gogh's "Starry Night" to hang over my bed. And though I've since outgrown my penchant for astrology, my childhood room still feels like "me." And the best part? Designing my bedroom together will always be one of most cherished childhood memories.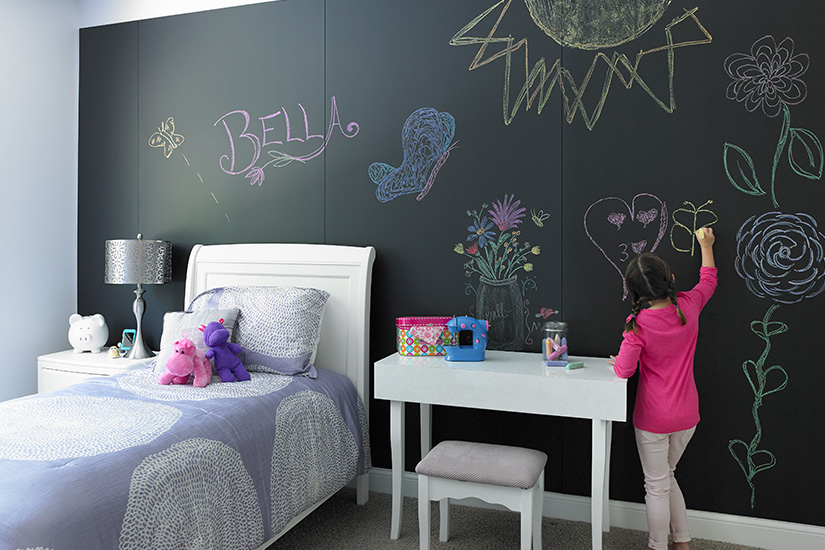 2. Encourage their creativity by letting them draw on the walls
Don't worry—you no longer have to worry about your kids destroying your freshly-painted walls with their artistic masterpieces thanks to Formica® Writable Surfaces. What's so cool about this product is that it comes in a glossy markerboard or matte chalkboard finishes, which are both highly durable and stain resistant—so not only can your kids doodle all over it, but they can also play old-school games like Tic Tac Toe.
Of course, you can always encourage your kids to use their writable wall to practice their algebra problems or keep track of their weekly chores, but let's get real. Contact a local fabricator to install a custom Formica® Writable Surface, or learn how to do it yourself.
3. Let them decorate with their own Instagram pics
Is your child obsessed with Instagram? (I know, silly question.) Let them print out a few of their all-time favorite creations to decorate their room with. They can turn their Instagram masterpieces into posters, calendars, and stickers.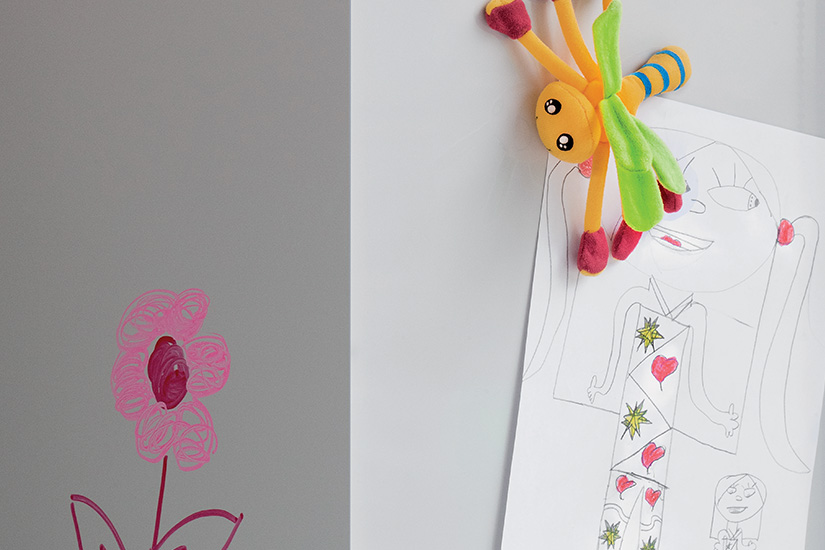 Another idea is to let your kids create an interactive wall or collage with real-life movable Instagram pics. All you need is a mini printer that basically turns your photos to life. After your child takes a selfie with their friends, they can print it out and hang it on their wall. This will keep them busy for hours.

You can also make their room Instagram-ready by turning a portion of their bedroom into a makeshift photo booth with a cool background using Martha Stewart wall decals or funky patterned wallpaper. Stock a trunk with props like boas, hats, and fake mustaches. Trust me, their bedroom will get all the likes.
4. If your kids share a room, give them their own space
Personalization can be especially difficult if your kids share a room, but there are some great ideas on Pinterest for making sure your kids feel like they have their own space. I love these space-saving built-in beds designed with privacy curtains. Another idea is to create a divide in the middle of the room by using a curtain, half wall, or piece of furniture (which can also add extra storage). If you opt for a half wall, you can even install a Formica® Writable Surface on either side so your kids have a place to express their creativity on their own terms.
5. Set aside a portion of the room for their hobby
Is your child obsessed with rock climbing or perfecting their pirouettes? Or maybe they're a budding fashionista who's often found doodling a new outfit? Whatever your child's interests may be, try setting aside a portion of their room for that activity. We recommend turning to Pinterest where there's plenty of inspo for easy-to-install indoor climbing walls, built-in ballet barres, cozy library nooks, and more.