Formica Achieves Carbon Trust Qualification
Formica is the first laminate manufacturer to be certified with Carbon Trust's Carbon Reduction Label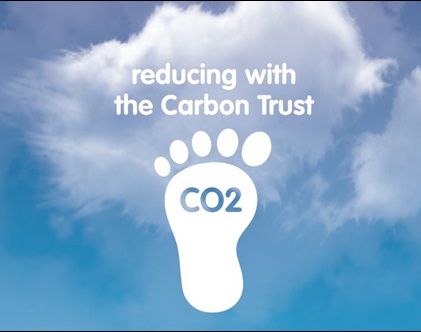 • The Formica Group is demonstrating its ongoing commitment to reducing its global environmental impact by undergoing carbon footprint assessment and labelling products with the Carbon Reduction Label.
• Surface area of approximately 100 million square metres of Formica® products is now carbon labelled; this equates to 13,703 x the area of an average football pitch.
• The products certified and carrying the Carbon Reduction Label represent 90% of Formica Group's total products worldwide.
Formica Group is pleased to announce that it has measured the carbon footprint of its range of High Pressure Laminate (HPL), Continuous Pressure Laminates (CPL), Compact Laminates and Bonded Worktops products, which now qualify to carry the Carbon Trust's Carbon Reduction Label.
The Carbon Reduction Label helps consumers easily identify and choose products that are working to lower their environmental impact. Labelling the products is also an important step for architects and specifiers who are increasingly in need of demonstrable evidence of the environmental credentials of the built environment.
Mark Adamson, CEO of Formica Group, said: "With our worldwide presence and manufacturing facilities, Formica Group leads the way in design and innovation for the production of High Pressure Laminate. Now we are leading the way on this important facet of product manufacturing. Displaying the Carbon Reduction Label on our products is a clear and effective way of communicating to all of our customers that we are working to reduce the carbon footprint of our products. Reducing our impact on the environment is a core part of Formica Group's company-wide vision and values."
The Formica Group has set its own goals to reduce carbon emissions for all operations, vehicles and facilities by 5% by the end of 2012.
The Carbon Reduction Label signifies that the total greenhouse gas emissions from every stage of the product's lifecycle including raw materials, production, transportation, preparation, use and disposal have been assessed. By displaying the Carbon Trust's Carbon Reduction Label, Formica Group has made a commitment to measure and reduce the carbon footprint of its products over a two year period.
To qualify to bear the Carbon Trust Carbon Reduction Label, Formica Group has had each product's carbon footprint assessed to the PAS 2050: 2008 Specification for lifecycle greenhouse gas emissions of goods and services, the Footprint Expert Guide TM and the Code of Good Practice for Product Greenhouse Gas Emissions and Reductions Claims.
Darran Messem, Managing Director of Certification at the Carbon Trust, said: "We congratulate the Formica Group of companies on the certification and labelling of their products. The Carbon Reduction Label allows Formica Group to easily and openly communicate the serious and credible steps it is taking to reduce carbon emissions. Certifying these products will have a positive effect on Formica Group's reputation, and the business as a whole. We are pleased to be working with Formica Group, as it works to reduce the carbon footprint of its products."
Gavin Todd, Development Manager, Formica Group, who directs the company's sustainability strategy, commented: "Formica Group completed a Life Cycle Assessment on key products and their environmental impacts in all ten of our manufacturing plants. This has provided a benchmark for our processes and enabled us to set goals for the future. Creating a company culture that demands continuous improvement and working to internationally recognised accreditations and certifications are part and parcel of our journey for excellence in sustainability. Working with the Carbon Trust and being the first laminate manufacturer in the world to display the CRL is an exciting part of this."
Formica Group joins other household brands who are leading the way forward in this initiative and whose products carry the Carbon Reduction Label including Coca-Cola, Dyson, Morphy Richards and the New Zealand Wine Company, among others.
Notes:

The Carbon Reduction Label

• Since 2007, the Carbon Trust has worked with numerous brands and individual product lines to measure and reduce the carbon footprint of everyday household items, as well as business facing brands.
• The Carbon Trust designed the Carbon Reduction Label to help companies communicate the impact of their product carbon footprinting work. Companies that display the Carbon Trust Carbon Reduction Label are making a commitment to reduce the carbon footprint of their product or service.
• The carbon footprint of a product or service is the total carbon dioxide (CO2) and other greenhouse gases emitted during its life, from production to final disposal.[1]
• The Carbon Trust Carbon Reduction Label currently appears on products worth €3.8billion in annual sales
• For further information visit http://www.carbontrustcertification.com and http://www.carbon-label.com



About the Carbon Trust

The Carbon Trust is a not-for-profit company with the mission to accelerate the move to a low carbon economy, providing specialist support to businesses and the public sector to help cut carbon emissions, save energy and commercialise low carbon technologies. By stimulating low carbon action we contribute to key UK goals of lower carbon emissions, the development of low carbon businesses, increased energy security and associated jobs.

For further information or interviews on the Carbon Trust Standard, please contact Oliver Stewart on +44(0)20-7592-1200 or [email protected]
About Formica Group
Formica Group globally leads the industry in the design, manufacture and distribution of innovative surfacing products for commercial and residential applications. Formica®laminate is the 'original' and contains more than one hundred years of invention, innovation and design leadership. For more information about Formica Group, its products, special programs and promotions, visit www.formica.com.
Formica Group is a global group of companies consisting of Formica Canada, Inc., Formica Corporation, Formica de Mexico S.A. de C.V., Formica IKI Oy, Formica Limited, Formica S.A., Formica S.A.S., Formica Taiwan Corporation, Formica (Thailand) Co., Ltd., Formica (Asia) Ltd., and Formica Decorative Materials (China) Co., Ltd. among others.
Please Note: Formica® and the Formica® Anvil Logo are registered trademarks of The Diller Corporation.
© 2020 The Diller Corporation. All Rights Reserved.