The Making of Paper Terrazzo
Another award winning design made from post-production paper waste
Made affordable by modern production techniques, terrazzo can now be a fixture of any space. To infuse terrazzo's one of a kind look into horizontal and vertical surfaces, Formica Group has created an award-winning laminate made from post-production paper waste.
---
Smart Organics
Following the launch of Reclaimed Denim Fiber in 2015, the Formica Group design team identified a movement to repurpose materials and reuse them in new ways. The Smart Organics palette from Formica 2019 Asia Collection highlights a scientific approach to environmental consciousness.

At Formica Corporation, designers asked the printers to utilize remnants from manufacturing. They decided to recycle the offcuts of solid color laminates. The leftover scraps were once reprocessed into pulp to be used in creating another solid. Now, the remnants are celebrated, chopped up into tiny fragments and directly placed on top of a solid to create a terrazzo look laminate. The new Paper Terrazzo laminate pattern is comprised of neutrals and include 30% reclaimed material.

Paper Terrazzo is created in small-batch craft production so that each sheet is unique and natural. Paired with a Chalk finish, the Paper Terrazzo pattern offers a low sheen-in register finish. The production pressing process results in a low sheen finish with slightly raised areas that result from the individual embedded paper fragments.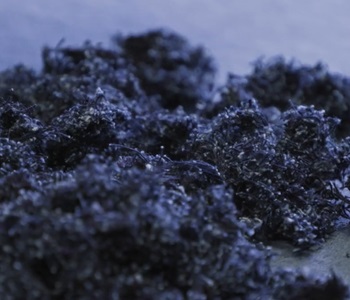 Reclaimed Denim Fiber
Real reclaimed denim fiber from cloth production mills, embedded in paper