DecoMetal® by Formica Group is the focal point at new Hilton Heathrow Terminal 5 Hotel
Formica® Laminate was used in the new Hilton Hotel at London's Heathrow Terminal 5. Following the design concept from Felicia Ng at EPR Architects Copper Stratos was chosen from the DecoMetal® by Formica Group range to add a stylish flair to the bar area in the hotel's Gallery Restaurant.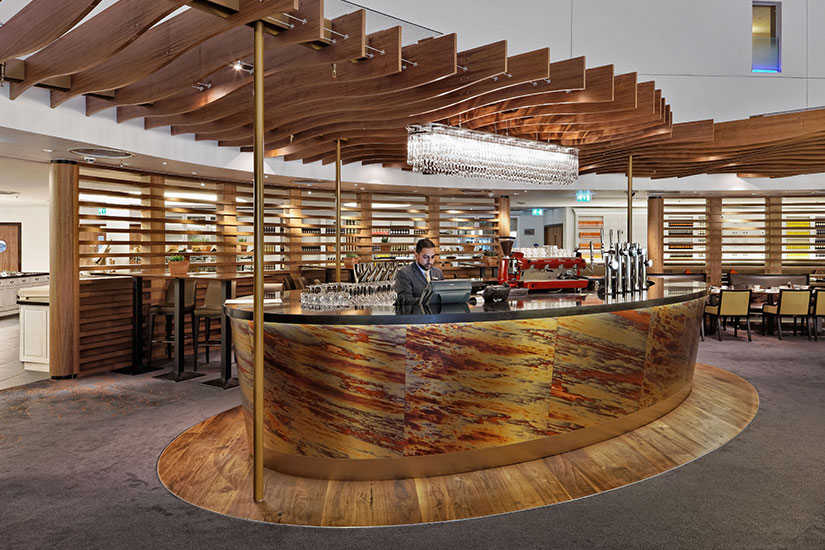 Hilton Heathrow Terminal 5 is a new build hotel with top of the range conference facilities, restaurants, bars and luxury leisure amenities. The Gallery Restaurant is the main food and beverage service in the hotel, and the oval bar, situated in the centre of this open and contemporary space, is the focal point.
Felicia Ng explains: "I chose Copper Stratos because of the movement of colours. We wanted a finish that would create interest and change depending on the time of day". As demonstrated in this project, Formica® laminates are striking and at the same time versatile, catering to individual design needs. EPR Architects used the Copper Stratos laminate to compliment a bespoke Light Drizzle chandelier and composite stone top used in other areas of the bar.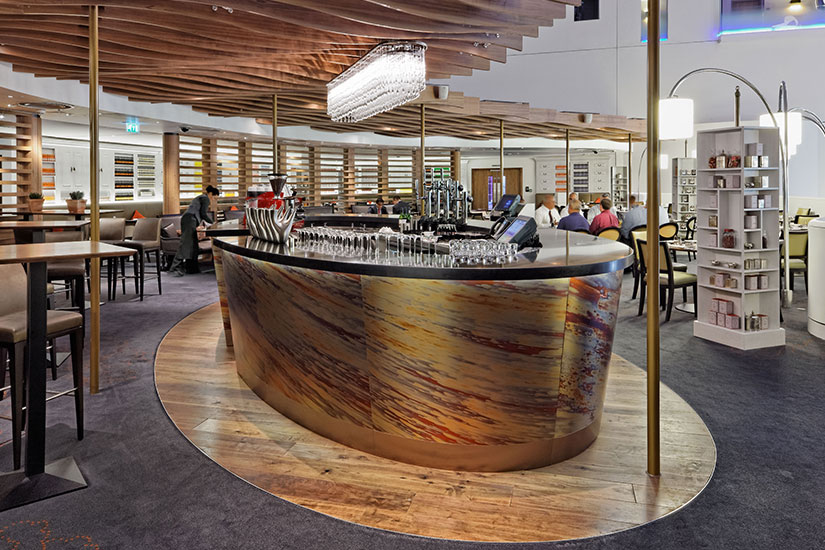 DecoMetal® is the practical alternative to real metal. The range offers desirable and tactile laminate surfaces, made using real metal foils. It is the perfect material for hospitality environments, where hygiene, easy maintenance and durability are important.
Combining the texture and colour of metal with the hardwearing, lightweight and flexible properties of laminate, the DecoMetal range addresses the latest interior trends with brushed, textured and sculpted effects in a variety of colours. The copper accents introduced in the restaurant bar create an exciting and luxurious tone that still remains at the cutting edge.
The Formica Group produce flexible, durable and design friendly laminates that carry the GREENGUARD® Indoor Air Quality Certified mark, helping to create healthier indoor environments. Formica Group products are also REACH compliant, and are subject to periodic reviews. Recently Formica Group became the first manufacturer to be awarded the Carbon Trust's Carbon Reduction Label.
With 100 years of innovation and manufacturing experience, Formica Group has developed an unrivalled expertise, which ensures quality, reliability and products that are fit for purpose. Working closely with architects, designers and specifiers, the company is ideally placed to offer innovative new products and decors which respond to market needs and complement current design trends.
" I chose Copper Stratos because of the movement of colours. We wanted a finish that would create interest and change depending on the time of day "
Felicia Ng