The Making of 180fx Collection
The Making of 180fx Collection
Modern, sophisticated patterns bring quartz, stone and hardwood designs to life
180fx® laminate marks a revolution in surfacing with true-to-scale granite, stone and woodgrain patterns that offer visual drama unmatched by any other laminate. Modern, sophisticated high resolution patterns focus on a natural palette - versatile enough to pair with any interior design concept.
---
Typically, a regular décor repeat is approximately 600 -700mm wide, but REAL WOODS OR STONES DON'T REPEAT! 180fx is a collection of large scale designs that captures every little nuance of natural stone in true scale without the repetition of décor pattern!
In 2009, Formica Group introduced 180fx® laminate, the culmination of an artistic design effort that leveraged advanced digital technology to create large-scale, high resolution patterns. It was developed to bring realistic, exotic granite looks to homeowners in an affordable way. Our innovative printing technology allows a wider length of 5' before having a décor repeat. This allows the perfect combination of having a luxury look of nature stone with practical advantages of laminates in a larger application area. The 'repeatless' look takes laminate one step closer to nature. Finally, a laminate as large as life.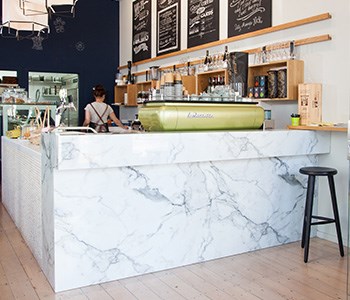 Calacatta Marble
An elegant marbleized pattern of white with grey veining that will never become outdated
Watercolor Series
Learn how artist Kathleen "Fred" Streitenberger and the Formica Group North American Design Team brought the mesmerizing Watercolor series to life.