Introducing SurfaceSet® 2018 by Formica Corporation, an entirely new collection based on the balance and tension of man-made meets natural design, created for commercial surfaces with beautiful, durable Formica® Laminate. The new assortment offers a wide range of colours, patterns and woodgrains in three palettes that together form Formica Corporation's vision of design. Leading up to every product launch, including SurfaceSet® 2018, Formica Corporation explores and analyzes trends around the globe to develop the perfect palette to represent the most current styles.

Many factors influence the development of these trends. The design team at Formica Corporation explores tradeshows, printed media, as well as social media. We meet with other designers, survey the architectural community, and analyze a variety of other resources.
Trend Observation
The continuous task of trend observation is very important for anyone in the design industry. At Formica Corporation, our designers continue to monitor and participate in global tradeshows, colour forecasts, and pattern development.
At the beginning of a new commercial launch, Formica® Brand designers hone in on specific trends observed in the market. Drawing inspiration from global, cultural, economic and environmental changes, as well as art and design movements, SurfaceSet® 2018 offers a wide range of surfacing options—from Scandinavian-inspired maples, to a crisp new Plex texture, to artistic paint scrapes and reusing raw materials for new visuals to make interior spaces more relevant. This collection features three palettes that fuse beautiful design with purposeful functionality.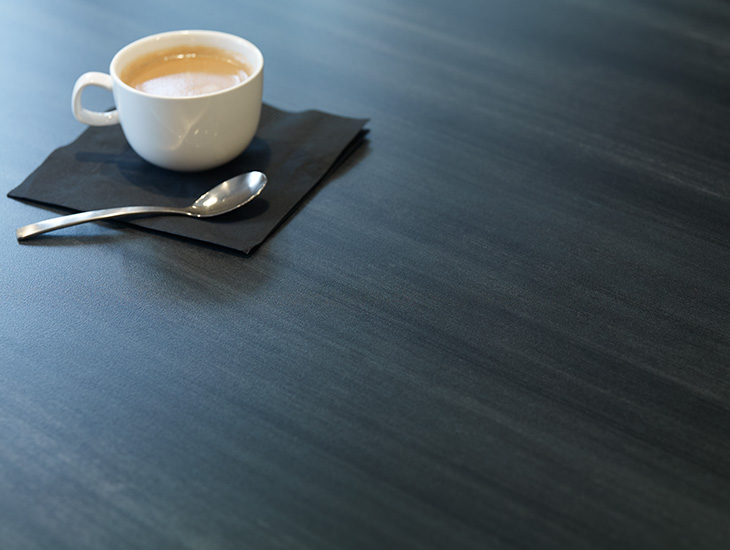 Personal Sanctuary
Create a moment of calm amidst the urban chaos. This elegant palette of deeply saturated colour is balanced with serene neutrals and finely crafted to approach pure materials.
Explore the collection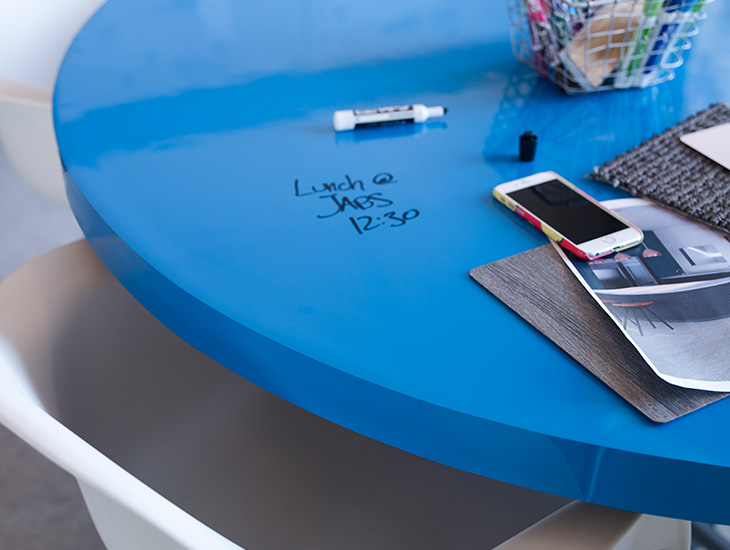 Spectral
Brimming with creativity, this theme takes a low-tech approach, championing a more free-hand style. With a solid colour back to basics palette, a feeling of energy and optimism is created.
Explore the collection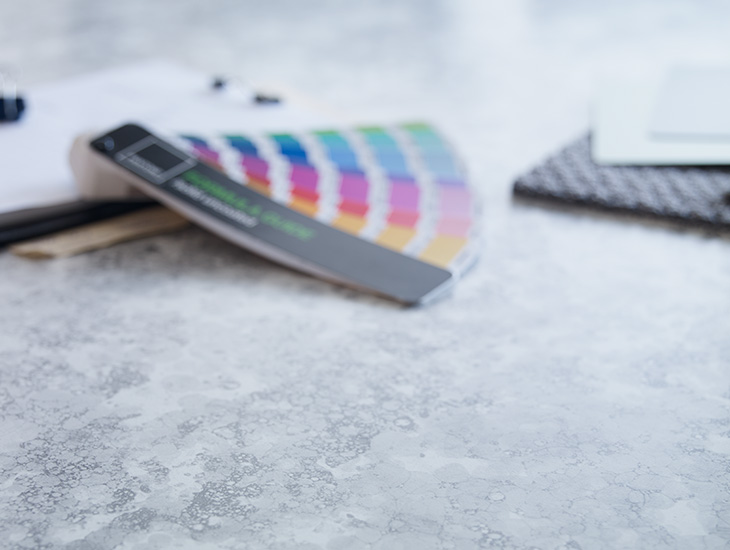 Smart Organic
Making a much more scientific approach to an environmentally conscious theme, designers manipulate desirable qualities of both natural and synthetic materials to create never before seen smart bio-composites.
Explore the collection
Qualitative and Quantitative Research
Surveys are conducted with members of the architecture and design community on a global level. Typically, designers are looking for products that are new and fresh, but also have some longevity behind the design trends. They are seeking a way to refresh, rethink, and recreate the spaces that surround us. SurfaceSet® 2018 incorporates several patterns that have been curated for a timeless design. Soft coloured, monochromatic woods such as 8905-58 Waxed Maple and 8912-NG Winter Sky Birchply celebrate a minimalist Scandinavian look. A new solid, 8792-58 Winter Sky, pairs perfectly with the Birchply, allowing one to coordinate multiple surfaces.
After developing the trends for SurfaceSet® 2018 and completing in-depth customer research, the Formica Group design team sources materials for the exclusive designs. Wood patterns like 8910-NG Raw Birchply, utilize real veneers which are scanned and digitally enhanced to print large-scale, realistic patterns.

Sometimes artists are sought out to develop decorative and original artwork to create patterns inspired by many sources. Featured in the Spectral Palette of the new collection, 8994-PX Paint Scrape Steel, mixes the perfect combination of urban paint scrape with a pop of color. The new Plex finish adds a canvas-like quality to the surface. The interaction of color across the spectrum utilizes painterly brush strokes and daubs to create intriguingly tactile surfaces, heightening the sensory experience with strong, saturated colour.
Final Design Launch
The 2018 SurfaceSet® launch started with over 200 designs. After surveying the design community, multiple colour iterations and design tweaks, the final launch is comprised of 32 new designs and one finish. These designs have been carefully fashioned and fill an essential place in today's design trends. Combined, they mix styles of neutral ambiance, hand crafted texture, and hybrid materials inspired by a new age of recycling. The 2018 SurfaceSet® Collection by Formica Corporation is fresh, inviting, and stimulating. Formica Corporation is a leader in researching and developing to design trends spanning the globe.