Ask the Experts: Formica Infiniti® Laminates
In a continuing series on Formica.com, we have teamed up with the Formica Group Technical Team to answer some of the most common questions we receive from fabricators about our surfaces. Of course, if you have specific or unique questions, you can always reach us directly at 1-800-FORMICA (367-6422), but you may be able to find a quick answer to a common question below.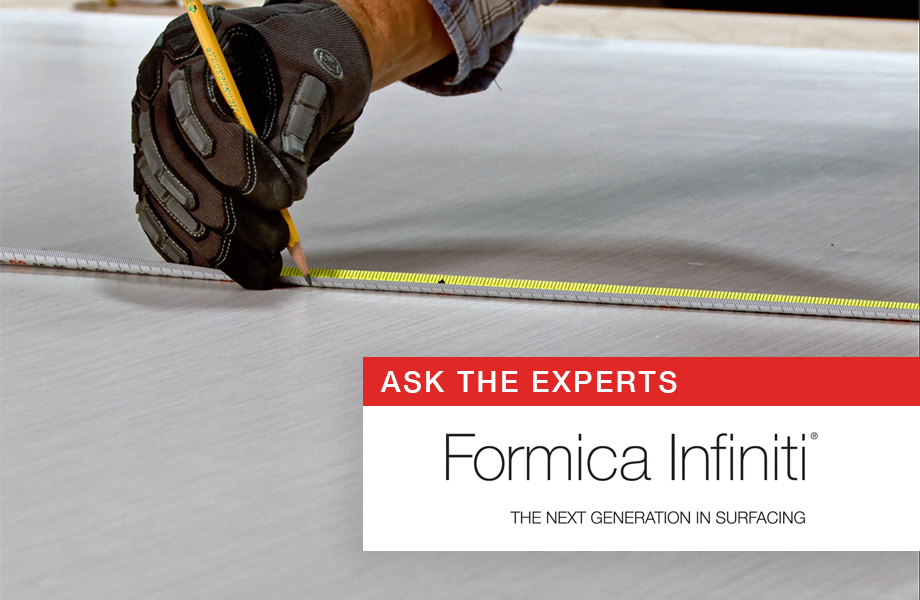 Today, we're delving into Formica Infiniti® Laminates.
Question: What is Formica Infiniti® and where would I use it?
Answer: As beautiful as it is durable, Formica Infiniti® Laminate features a soft-to-the-touch super matte finish, resists fingerprints, has thermal healing capabilities and built-in antimicrobial surface protection. This technology stops the growth of mildew and mold, which can cause stains and odors. Newly available Formica Infiniti® Colorcore®2 has all the properties of Formica Infiniti® paired with a matching colored core that eliminates the brown edge, providing a luxurious, clean edge surface.

For inspiration, this article features 15 unique applications of Formica Infiniti®.

You can also learn more in this video:
Question: How do I clean Formica Infiniti®?
Answer: Formica Infiniti® is easy to care for using a damp cloth and mild detergent. Its chemical-resistant nature means that using bleach, ammonium chlorides or other antimicrobials will not harm the surface. However, abrasive cleaners, powders, scouring pads and steel wool will damage the finish and can permanently reduce the stain and chemical resistance of the laminate.

For additional information and recommendations on cleaning products, visit the Use and Care section of this technical guide.
Question: Is Formica Infiniti® antiviral or antimicrobial?
Answer: One of the notable features of Formica Infiniti® is its antimicrobial surface protection. During the COVID-19 pandemic, we've been asked if this is the same as antiviral protection. The answer is no, as killing viruses on any type of surface requires particular disinfectants. Formica Infiniti® is built to stand up to stringent cleaning protocols and strong disinfectants.

Learn more in this article that dives deep into the meaning of antimicrobial surface protection and the best types of cleansers to use against SARS-CoV-2, the virus that causes COVID-19.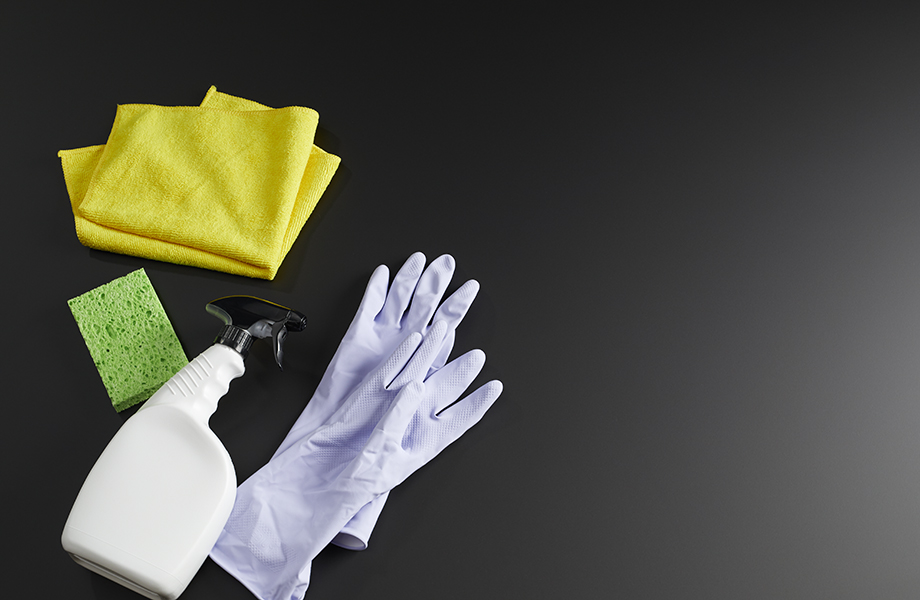 Question: How do I repair/heal burnished areas on Formica Infiniti®?
Answer: Formica Infiniti® Laminates feature thermal healing capabilities, which enable you to repair burnished areas of these innovative surfaces. This can be accomplished by placing a paper towel on the burnished area and spraying it with water. Then, with an iron on its highest setting, go over the spot four or five times, wiping the area dry and repeating as needed.

Learn more in this article.
Question: Is Formica Infiniti® scratch resistant?
Answer: Formica Infiniti® is scratch resistant but not scratch proof. Microscratches can be repaired using the steps listed above for healing burnished areas. Deep scratches or gauges cannot be repaired.

You can find detailed warranty information in the technical brief.
Question: Is Formica Infiniti® available as Formica® Compact Structural Laminate?
Answer: Although Formica Infiniti® is not available as Formica® Compact Structural Laminate, Formica Group now sells Arpa Industriale's FENIX™ collection, which provides an alternative solution. With low light reflectivity, FENIX™ surfaces are extremely opaque, soft touch and anti-fingerprint. In addition, they offer scratch resistance and thermal healing. You'll find the 12mm core option of the FENIX NTM® line to be a great choice for eye-catching structural laminate.

Visit the FENIX™ website to learn more about the full product range, or explore FENIX NTM®.