Six Palettes Inspired by the Pantone Color of the Year 2022
Six Palettes Inspired by the Pantone Color of the Year 2022
The Pantone Color of the Year 2022 is Very Peri. This vibrant hue inspired us to create these six multi-faceted palettes using Formica® Laminate in Cassis as a focal point.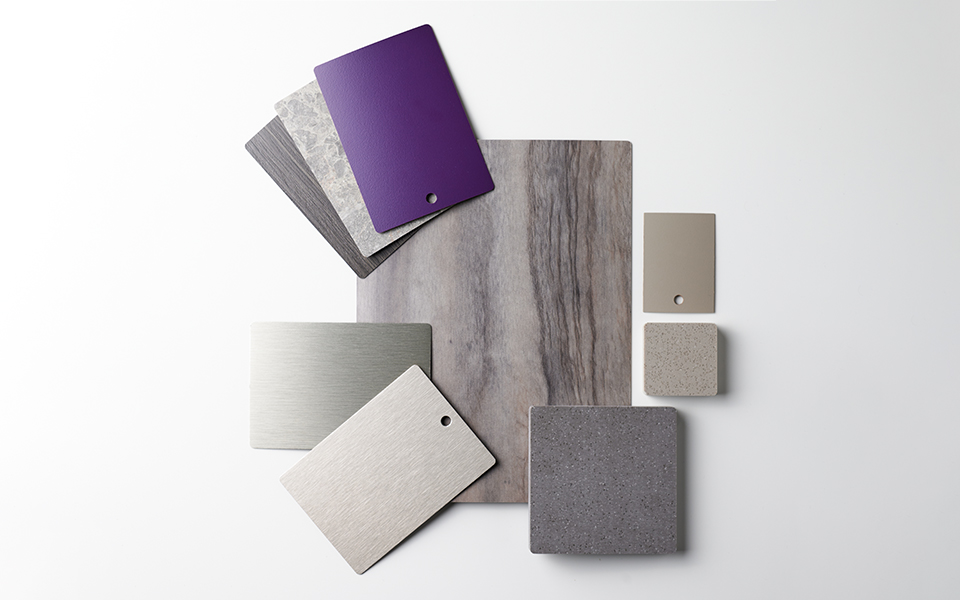 The Pantone Color of the Year 2022
The Pantone Color Institute's annual Color of the Year helps us interpret the collective global mood through a visual lens. For this year, they've created a new colour, PANTONE Very Peri, that represents a time of transition featuring such hallmarks as confidence, creativity and curiosity.

Very Peri can make a statement or hang back to complement other colours. We wanted to explore how a similar hue, Formica® Brand Laminate in Cassis, could inform design by creating several fresh palettes. These six collections tell modern design stories that offer new possibilities for home and commercial spaces. See which one inspires your next project!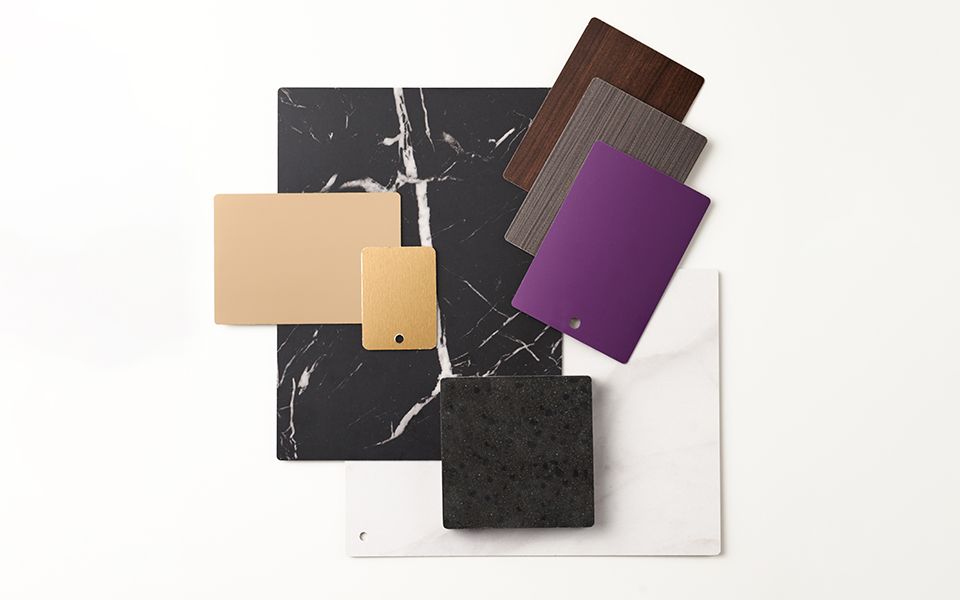 New Classic
This is a classic black and white palette created with contrasting tones and eye-catching metallics. The two 180fx® Laminate stone patterns, Calacatta Cava and Nero Marquina, offer a dramatic backdrop to the other elements. Graphite Twill adds texture, and Cassis is understated against the strength of the commanding black and white selections.

Patterns in this palette:
- 6903-58 Cassis HPL
- 5018-11 Calacatta Cava 180fx® Laminate
- 7403-11 Nero Marquina 180fx® Laminate
- 8829-58 Graphite Twill HPL
- 5790-43 Nut Brown Cherry HPL
- M6423 Brushed Brass DecoMetal® Laminate
- M2041 Polished Gold Aluminum DecoMetal® Laminate
- 501 Black Lava Everform™ Solid Surface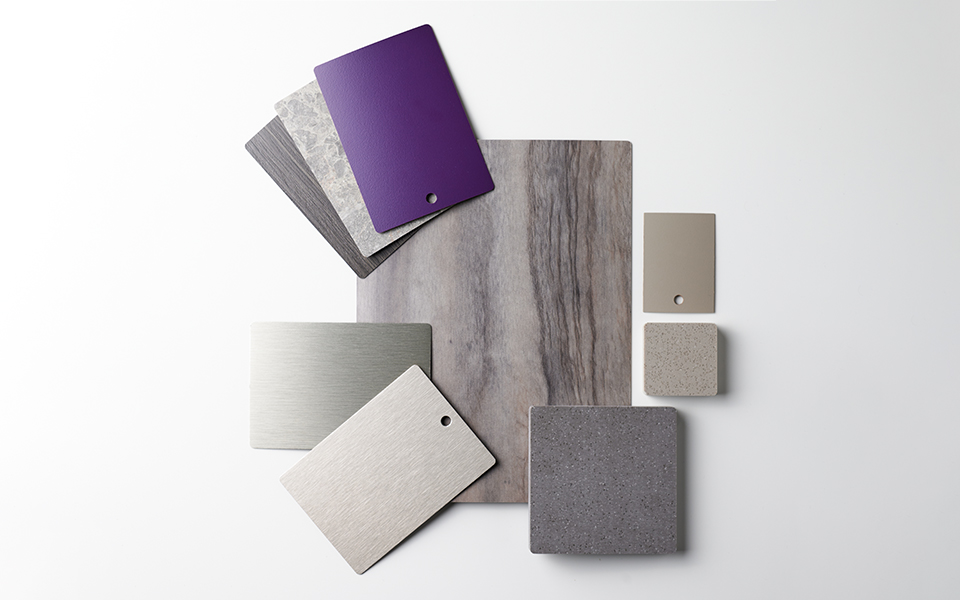 The Standout
There is a nice balance to this collection of warm neutrals even as the Cassis colour pop is a prominent component. It was inspired by the Pantone Color of the Year palette called the "Star of the Show." The two Everform™ Solid Surface patterns pick up the browns from the Woodland Marble 180fx® Laminate. Silver Shalestone is a unique take on a stone that adds texture, while Dark Inked Oak grounds the palette and the muted metals add elegance.

Patterns in this palette:
- 6903-58 Cassis HPL
- 3703-11 Woodland Marble 180fx® Laminate
- 9307-34 Silver Shalestone HPL
- 5792-PG Inked Oak HPL
- 3202-58 Otter HPL
- M9427 Champagne Stainless DecoMetal® Laminate
- M5311 Brushed Argent DecoMetal® Laminate
- 782 Luna Weather Everform™ Solid Surface
- 780 Luna Stone Everform™ Solid Surface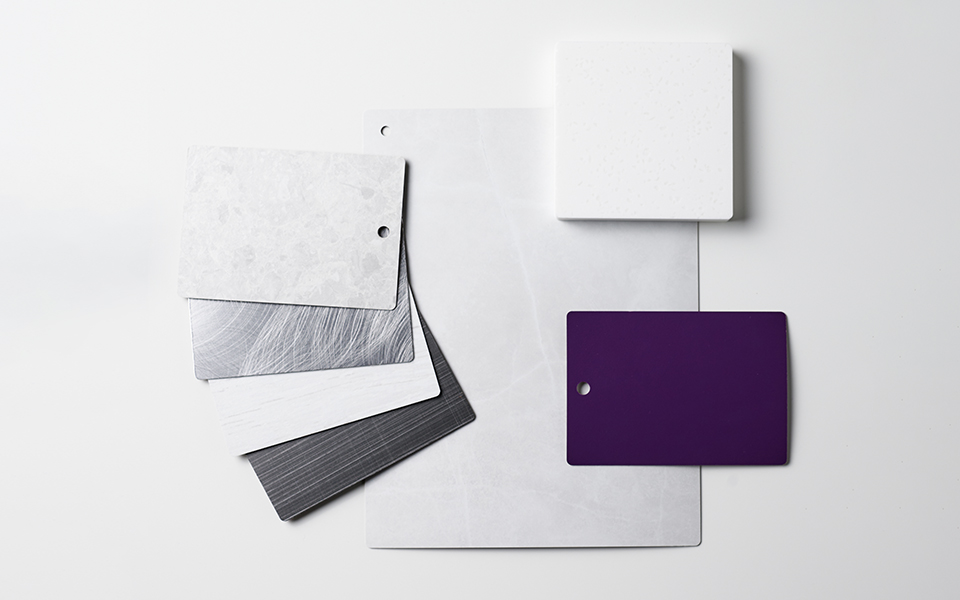 White and Light
Cassis accentuates this palette of white tones and soft grays. The white and silver patterns play with light to add dimension and interest. The Aluminum Crush and Graphite Veil DecoMetal® Laminate provide additional texture and balance while elevating the overall look.

Patterns in this palette:
- 6903-58 Cassis HPL
- 3700-11 White Alabaster 180fx® Laminate
- 9525-34 White Shalestone HPL
- 8902-NG White Painted Wood HPL
- M4511 Aluminum Crush II DecoMetal® Laminate
- M5341 Graphite Veil DecoMetal® Laminate
- 601 Bleached Concrete Everform™ Solid Surface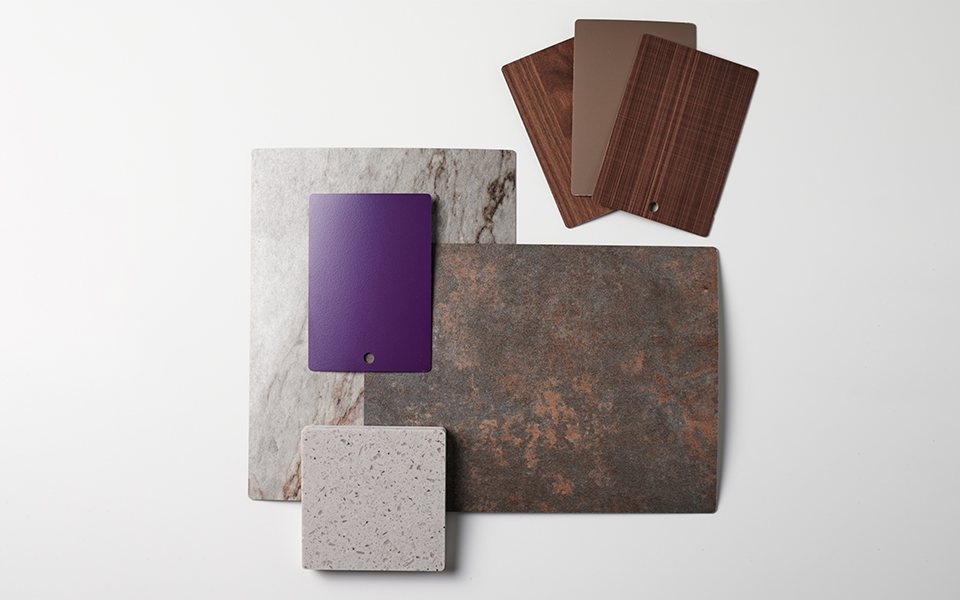 Rustic Luxury
This subtle palette is steeped in grounding earth tones. Cassis and Copper Veil DecoMetal® Laminate add brightness and subtle sophistication. Cassis pulls out the soft purple and blue tones of the Sea Pearl 180fx® Laminate and adds a luxe feel to the collection. The Patine Bronze features gold, green, brown and gray to tie everything together. It's enhanced by the new Monolith finish, which gives it a raw, stone-like quality. Gray Renew Everform™ Solid Surface brings this earthy palette full circle with its recycled components.

Patterns in this palette:
- 6903-58 Cassis HPL
- 9534-34 Sea Pearl 180fx® Laminate
- 3712-NG Walnut Butcherblock HPL
- 5342-58 Earth HPL
- 3707-ML Patine Bronze HPL
- M5392 Copper Veil DecoMetal® Laminate
- 749 Gray Renew Everform™ Solid Surface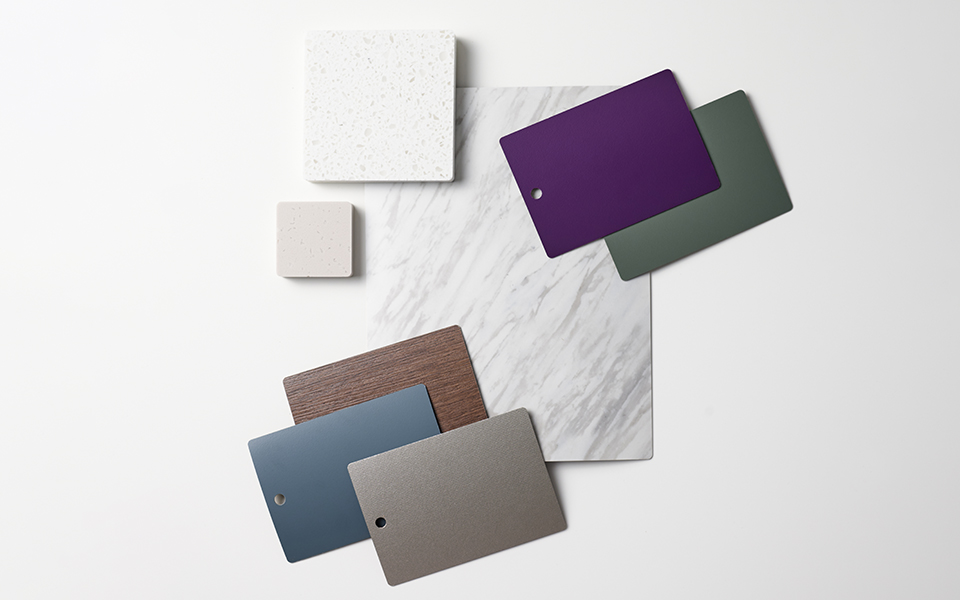 Nature's Palette
This palette takes its cues from the natural world with mid-tones in blue, green and purple. Manhattan Marble 180fx® Laminate offers up blue shades that tie in with the solid colours. It's a clean look with a lot of light. Yet, the Planked Coffee Oak grounds the palette along with the Cassis. The Plex Argent DecoMetal® Laminate adds some sparkle, and the two Everform™ Solid Surface patterns act as coordinating textures that don't overtake the marble.

Patterns in this palette:
- 6903-58 Cassis HPL
- 3701 Manhattan Marble 180fx® Laminate
- 8793-58 Green Slate HPL
- 8792-58 Winter Sky HPL
- 7413-PG Planked Coffee Oak HPL
- M5306 Plex Argent DecoMetal® Laminate
- 758 Bianco Mineral Everform™ Solid Surface
- 608 Limed Concrete Everform™ Solid Surface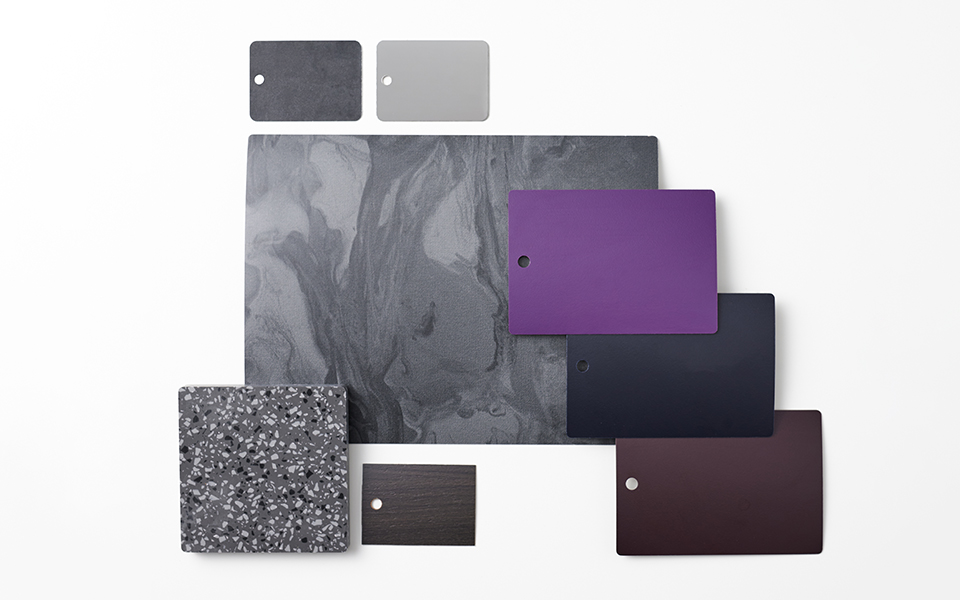 Night Moods – Graphic
This dark and moody palette is rooted in rich charcoal and other deeply toned hues. Cassis is a bright spot. There's a graphic focus with Grafite Terrazzo Matrix Everform™ Solid Surface and the mirror-like Polished Smoke DecoMetal® Laminate. This graphic focus continues with the new Marbled Gray 180fx® Laminate as a nod to painted-marbled design. The matte Black Patina DecoMetal® Laminate brings in contrast while Graphite Elm adds warmth with its brown-black combination. Night Shade and Nocturne fit the mood perfectly, and Cassis brings a burst of colour to this memorable palette.

Patterns in this palette:
- 6903-58 Cassis HPL
- 3704-11 Marbled Gray 180fx® Laminate
- 5323-58 Nocturne HPL
- 8243-58 Night Shade HPL
- 5796-NG Graphite Elm HPL
- M9425 Polished Smoke DecoMetal® Laminate
- M9422 Black Patina DecoMetal® Laminate
- 411 Grafite Terrazzo Matrix Everform™ Solid Surface