Designing with the 2022 Paint Colors of the Year
Leading paint companies have announced their colors of the year for 2022. These four palettes explore the design opportunities the soft green tones inspire.
Brush up on the Paint Colours Leading Design in 2022
With the ongoing interest in relaxation and bringing the outdoors in, it's no wonder these tastemakers have selected various shades of light green for their 2022 paint colours of the year.

These fresh hues inspired our design team to create four innovative palettes. Each one builds on the focal paint colour with complementary Formica® Brand surfaces to develop a multi-layered approach that embodies a particular trend.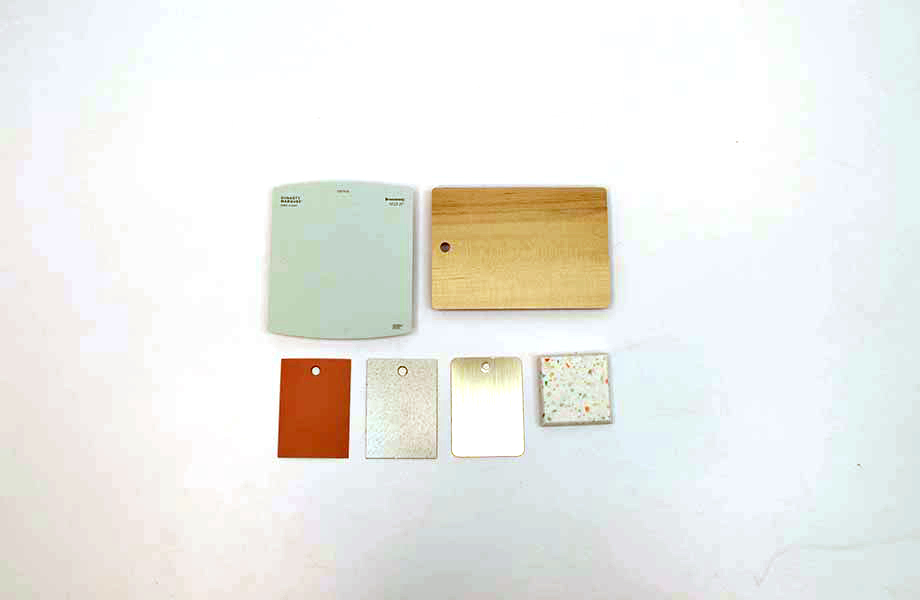 1.
Breezeway by Behr: The Scandenese Trend

Breezeway is aptly named — it's a beautiful, light and breezy shade! This palette captures the essence of simplicity and minimalism as depicted in Scandenese (Scandinavian + Japanese) design.

Everform™ Solid Surface in Sea Glass sets the relaxed tone here while Blush high pressure laminate (HPL) adds a tactile element with its Plex (-PX) textile finish. White Knotty Maple warms everything up and adds larger-scale dimension to this subtle collection.

Patterns in this palette:
- 505 Sea Glass Everform™ Solid Surface
- 7410-11 White Knotty Maple 180fx® Laminate
- 6696-46 Paloma Polar HPL
- 8238-PX Blush HPL
- M9427 Champagne Stainless DecoMetal® Laminate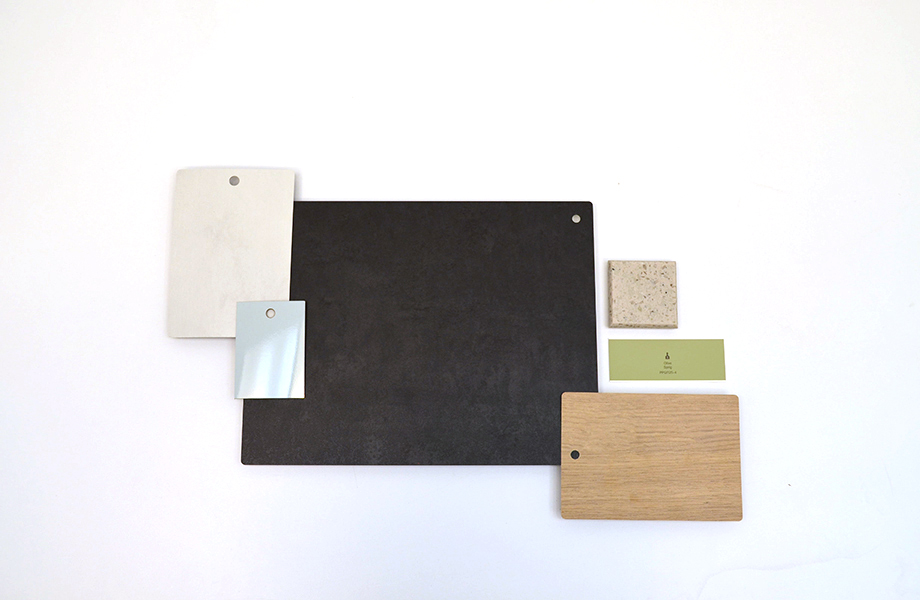 2.
Olive Sprig by PPG: The Simple Life Trend

The lightness of Olive Sprig complements the Calacatta Cava 180fx® Laminate to evoke the Simple Life trend. The interplay of black and white shades is a defining element.

Planked Urban Oak grounds the palette and follows through on the warm tones in Calacatta Cava's veining, while Gray Renew echoes the calming vibe of the Olive Sprig paint. The Black Patina DecoMetal® Laminate brings in a classic metal element for this laid-back combo.

Patterns in this palette:
- 749 Gray Renew Everform™ Solid Surface
- 9312-NG Planked Urban Oak HPL
- 5018-11 Calacatta Cava 180fx® Laminate
- 8240-58/90 Liquid Glass HPL
- M9422 Black Patina DecoMetal® Laminate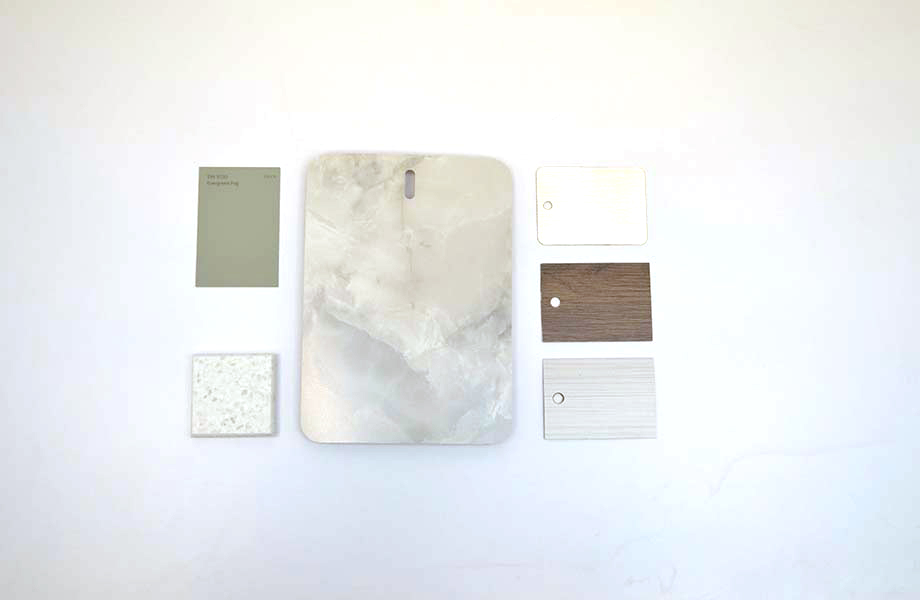 3.
Evergreen Fog by Sherwin-Williams: The Rustic Luxury Trend

Evergreen Fog is a beautiful, highly versatile shade of green that works as a true neutral in this palette. The paint pulls out the green-gray of the Gray Onyx, which is the perfect complement to the other elements that build on the Rustic Luxury trend.

White Renew Everform™ Solid Surface contains warm green and peach-coloured translucent chips which contrast nicely. The dark look and heavy graining of Planked Coffee Oak balances the subtle White Twill to let the Evergreen Fog and Gray Onyx really sing.

Patterns in this palette:
- 748 White Renew Everform™ Solid Surface
- 7413-NG Planked Coffee Oak HPL
- 7409-43 Gray Onyx HPL
- 9285-58 White Twill HPL
- M6423 Brushed Brass DecoMetal® Laminate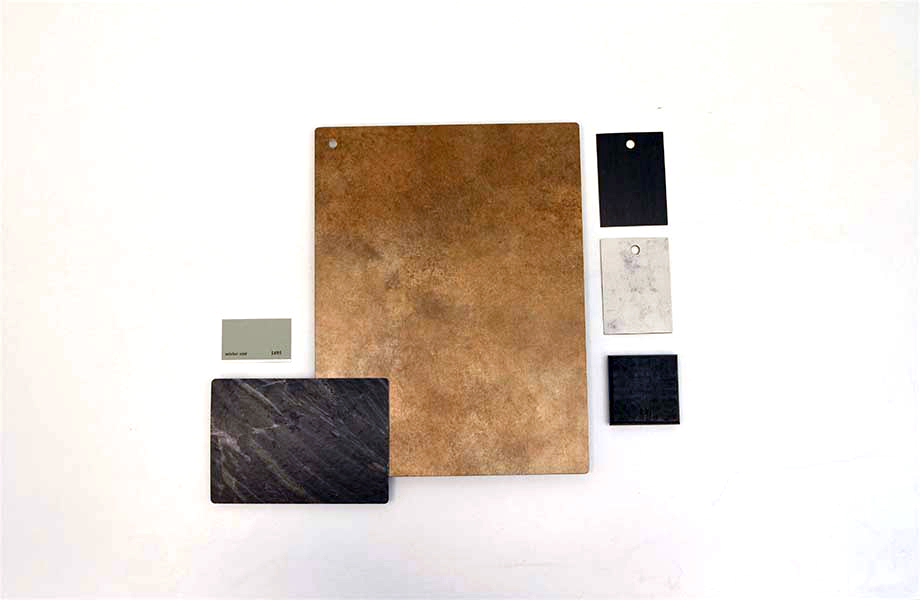 4.
October Mist by Benjamin Moore: The New Classic Trend

October Mist is light and neutral, making it a great supporting actor in dramatic "dark and moody" interiors that encapsulate the New Classic trend. Stormy Night Granite plays the lead role in this palette, with green-brown veining that highlights the paint and establishes the dark and light interchange.

Black Lava and Black Birchply add subtle accents, while Neo Cloud acts as a palette cleanser. The white and gray in Neo Cloud reiterate the colours of Stormy Night Granite without fighting for top billing, and Brass Patina DecoMetal® Laminate elevates and completes the look.

Patterns in this palette:
- 501 Black Lava Everform™ Solid Surface
- 8552-NG Black Birchply HPL
- 8537-34 Stormy Night Granite 180fx® Laminate
- 6314-58 Neo Cloud HPL
- M9423 Brass Patina DecoMetal® Laminate