New and Notable: Accenting Woodgrain Laminate Kitchen Islands with Stone-Look Countertops
Kitchen islands featuring woodgrain laminate are increasingly popular, especially when paired with stone-look countertops. Explore four complementary pattern duos that will help you create this design-savvy look.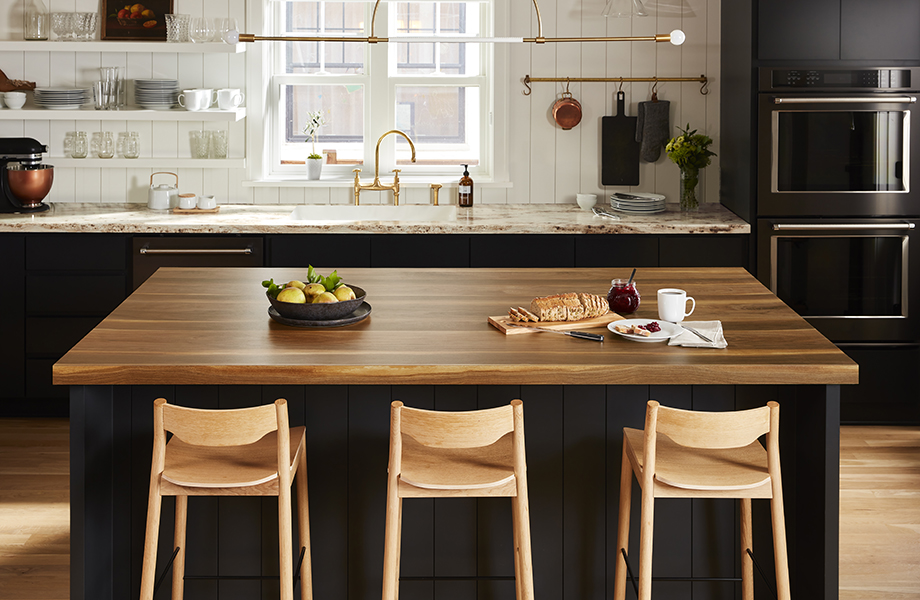 Wood + Stone: A Timeless Combination
Just like pairing a fine wine with the right meal, combining sophisticated woodgrain laminate with the look of premium stone makes for a memorable experience. Case in point: Design-forward kitchens now feature focal point islands with woodgrain laminate countertops in an array of hues. Adding surrounding countertops in exotic or sleek stone looks builds a sense of sophistication and warmth to create a thoroughly modern space.

Let's look at four complementary patterns from our 180fx® Laminate and classic HPL collections you can use to reinvigorate your kitchen.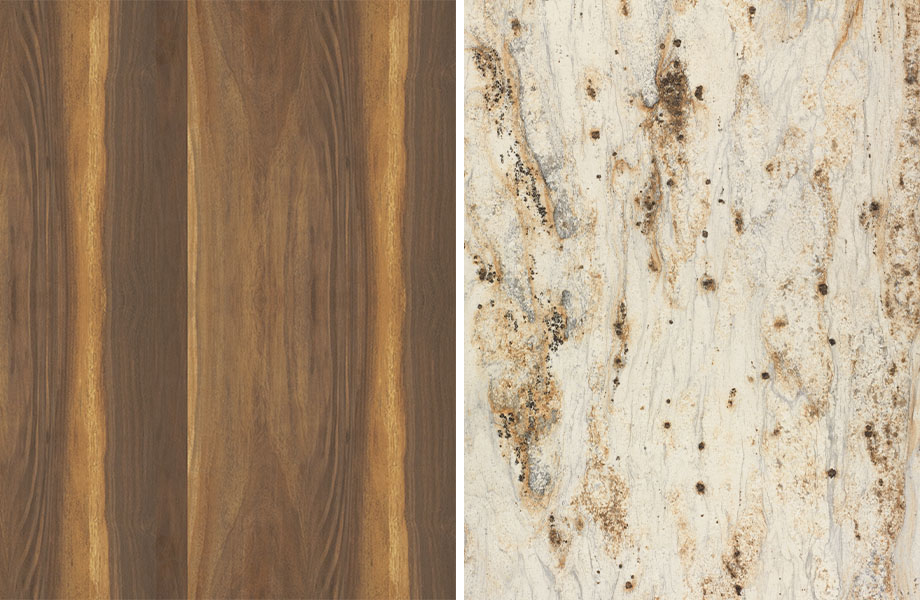 The Natural Look
As shown in the introductory kitchen image, Wide Planked Walnut presents a beautiful focal point for a space that feels current but with both Mid-Century Modern and farmhouse detailing. River Gold countertops accent the island to imbue the space with warm tones and highlight the vintage metal fixtures.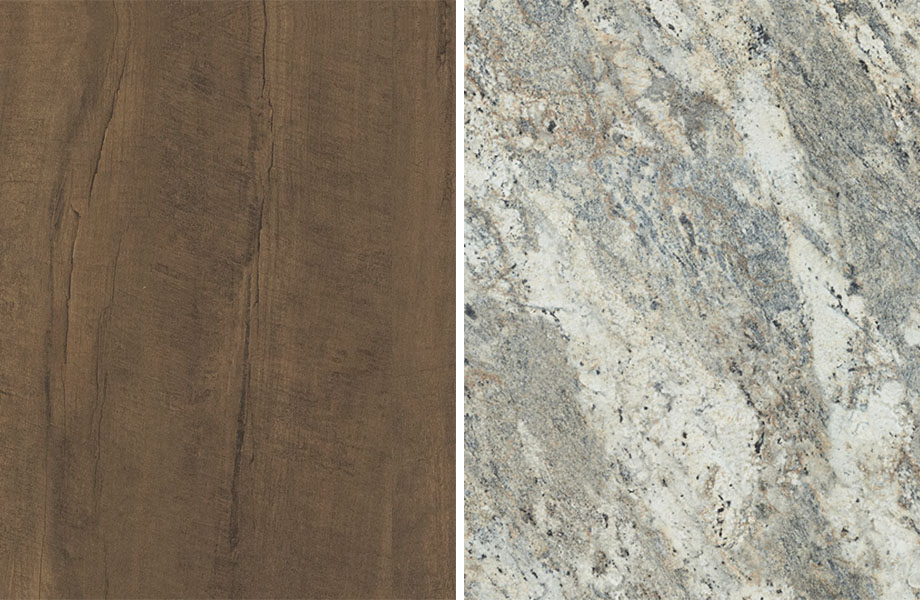 The Casual Look
Oxidized Beamwood is a rich woodgrain laminate that works perfectly with the flowing pattern of the blue-gray Café Azul. The casual look of reclaimed wood and approachable granite pattern go hand-in-hand, with the wood bringing out the warm brown tones in the stone.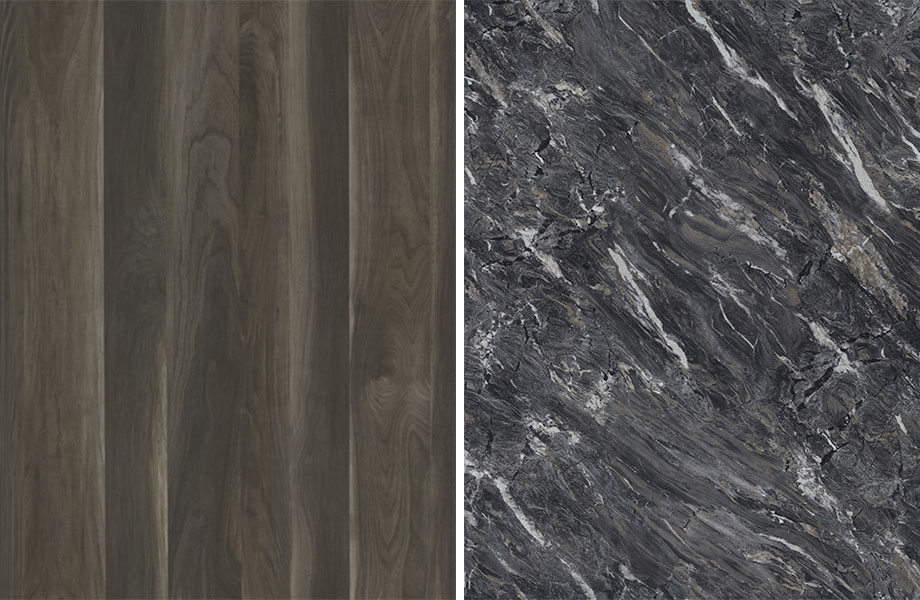 The Moody Look
For those looking for statement surfaces, Smoky Planked Walnut and Stormy Night Granite combine to make a bold statement. This kitchen theme would work well with white or light gray cabinetry to allow these strong laminate patterns to take center stage. Just as in the previous example, the Smoky Planked Walnut woodgrain highlights the brown veining in the granite, and Stormy Night Granite really sets the mood.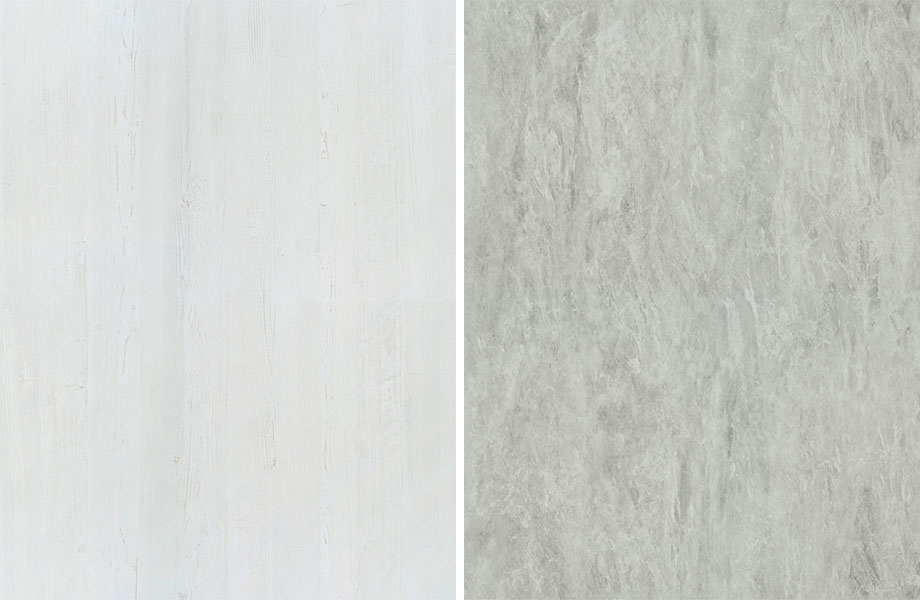 The Light and Bright Look
Creating a white-themed kitchen with dimension and depth requires subtle patterning to break up the look of solid-color elements such as painted cabinets. Selecting White Painted Wood for the feature island and White Bardiglio for nearby countertops offers just the right touch. Both offer hints of understated grays to balance an abundance of white and establish a welcoming, relaxing spot.