DIY: How to Create a Stylish and Realistic-Looking Barn Door with Formica® Laminate
DIY: How to Create a Stylish and Realistic-Looking Barn Door with Formica® Laminate
Barn doors are a great way to add style and function to living rooms, bedrooms, basements, offices and many other spaces. Although real wood barn doors look great, they have some limitations, such as cost, weight and design variety. Get ready to roll up your sleeves and discover how to use Formica® Laminate to turn a space-saving barn door into a beautiful accent piece!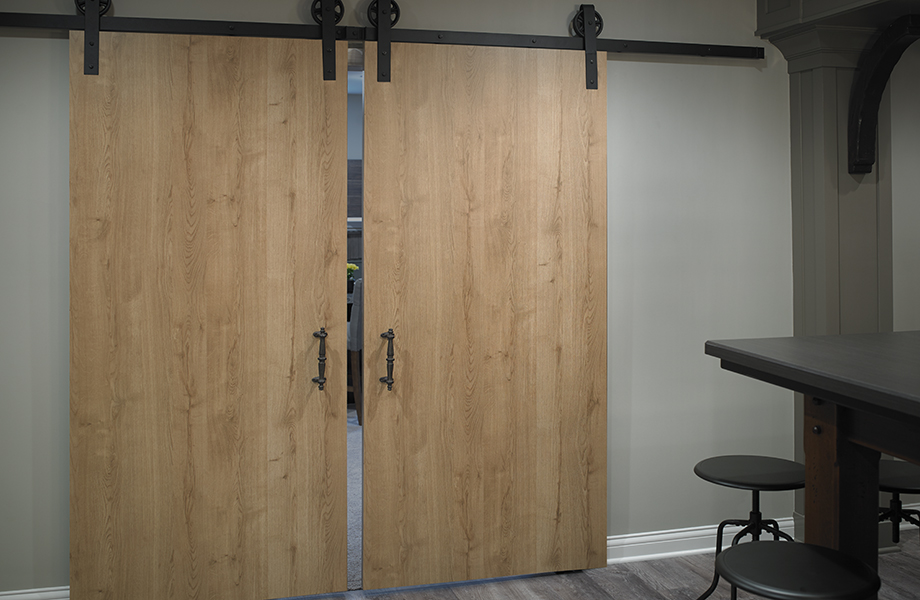 To get full, step-by-step instructions for this project, see the DIY video.
Choose Your Look
Formica® Laminate offers a wide variety of realistic-looking and feeling wood patterns to choose from – and you'll find these beautiful surfaces to be lightweight, affordable and very durable. But you're not limited to woodgrain patterns! Formica® Writable Surfaces are a fun and interactive alternative as well, and you can even do a different surface on each side of the door.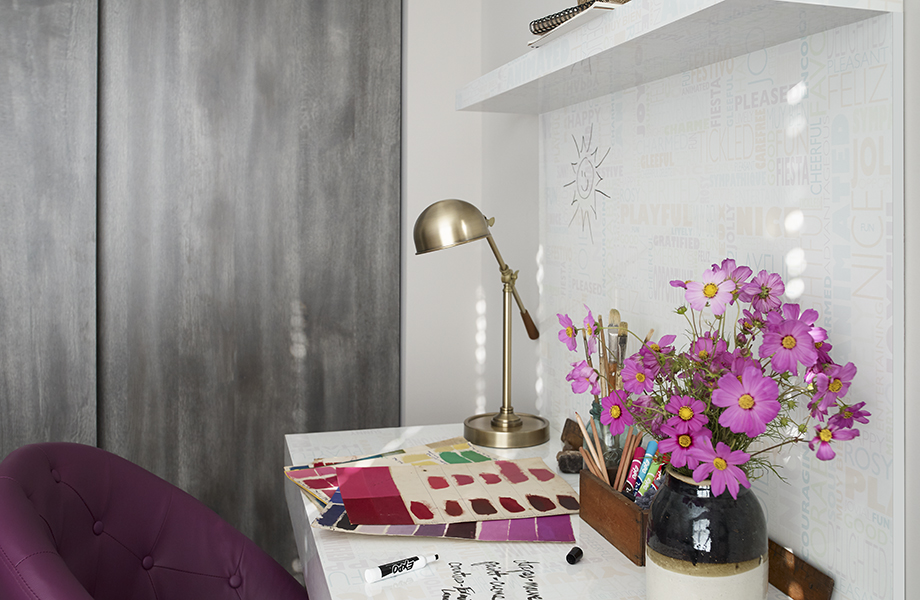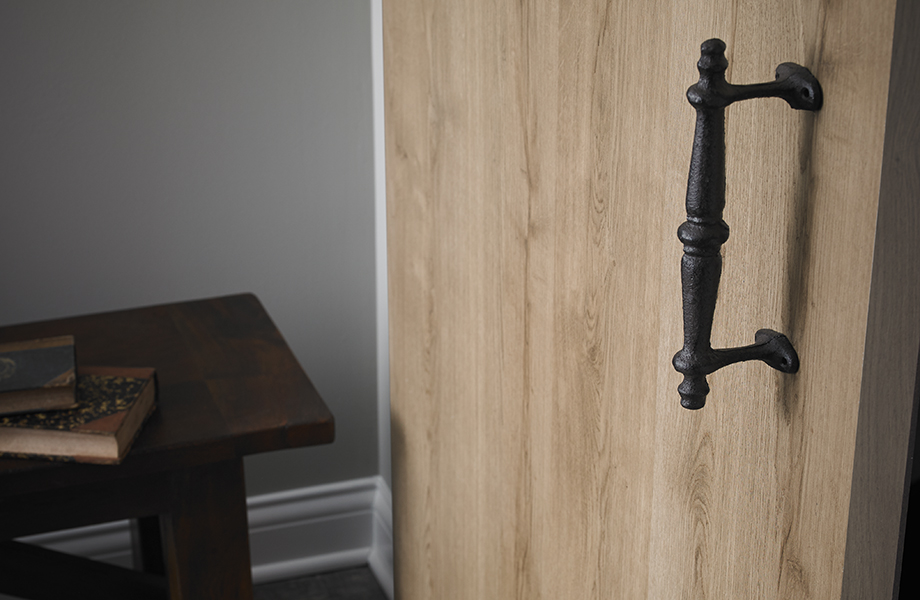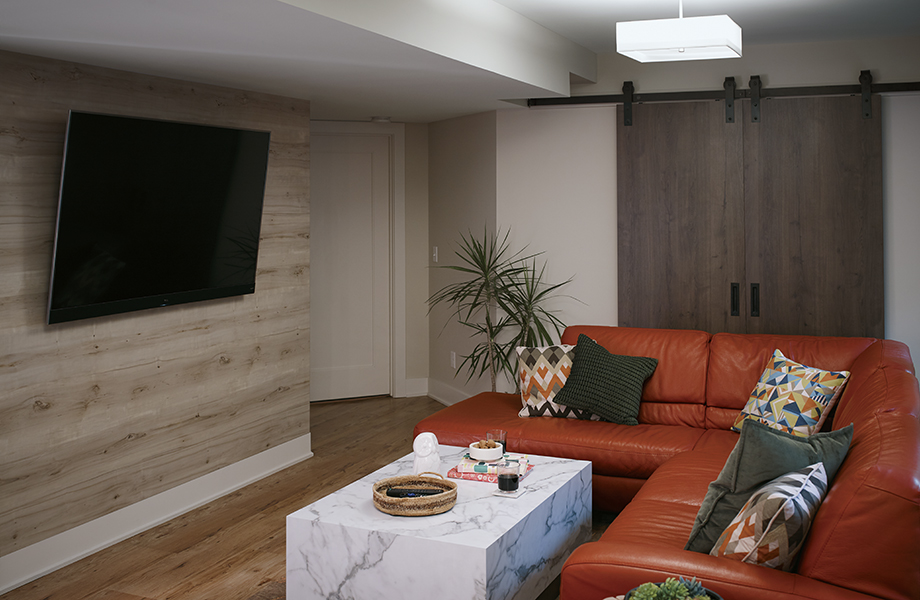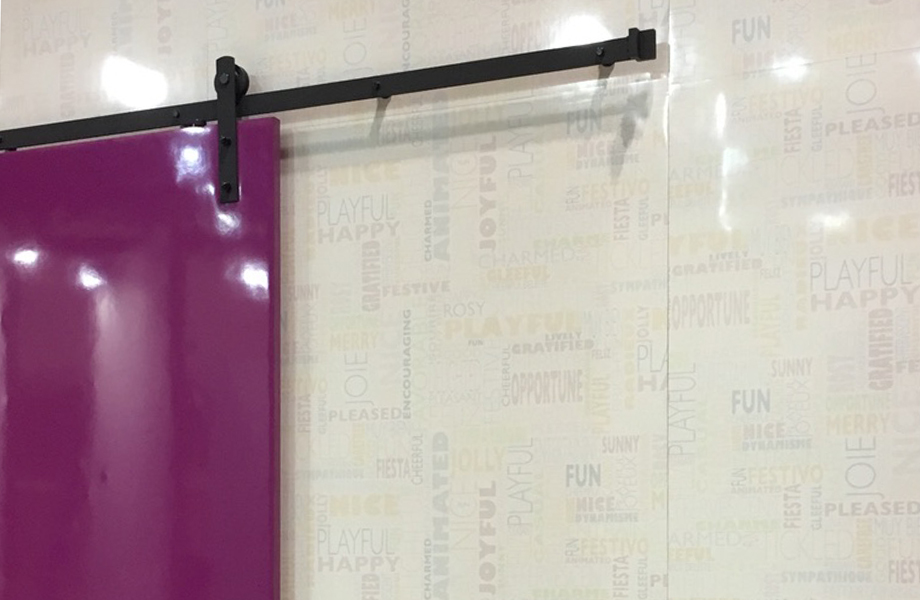 Sand the MDF
Use the detail sander to sand all surfaces of a Medium Density Fiberboard (MDF) door that you've cut to size. Then wipe off loose particles and let everything dry.
Take Measurements
Measure the edges and front of the MDF. Mark them on the laminate but add three-eighths to one-half-inch on all sides so you'll have enough coverage.
Start with the Edge Strips
Put your edge strips on first, beginning with opposite sides. Place masking tape along your cut line and redraw your cut line on top of the tape. Then, cut the laminate, face up, with a jigsaw, using a fine tooth, down-cut blade. Then, remove the tape and wipe down the surfaces.
Apply Adhesive
Spray contact cement on an edge piece and on the corresponding door edge. Let the adhesive get tacky and then apply each edge strip. There should be overhang on all sides.
Bond the Laminate
Use a J-roller to apply pressure to bond the laminate to the door edge. Trim the excess material using a router with a ball bearing piloted bit, always cutting at a right angle.
Smooth the Edge
Feel for any rough or proud edges and file at an angle using an even, consistent motion.
Sand
Use the sander if there are any areas of overspray. Dust off any particles and follow the same steps for the other edges.
Apply Adhesive, Round Two
Spray the door surface with adhesive. When it's tacky, place your dowel rods 10 to 12 inches apart on the door surface and put the laminate on top of the dowel rods.
Apply Pressure
Slide the dowel rods out, starting in the middle, smoothing the surface with your hands as you go. Once all the dowel rods are out, apply pressure with the J-roller.
Trim and File
Trim with the router and gently file the top edges until they're flush with the edge strips. Then flip the door over and follow the same steps for the back.
Allow for Drying Time
The laminate will be completely dry within 24 to 48 hours.
Install Track Hardware
Tracks are sold in many styles and finishes, so you can choose one that fits your design and budget. Follow the manufacturer's installation instructions for your chosen hardware.

You're good to go!
Follow along as Formica Group shows you how to make a stylish and realistic barn door with Formica® Laminate. You'll enjoy the look of your new door and the low-maintenance laminate used to make it!
---