Robert Morris Event Center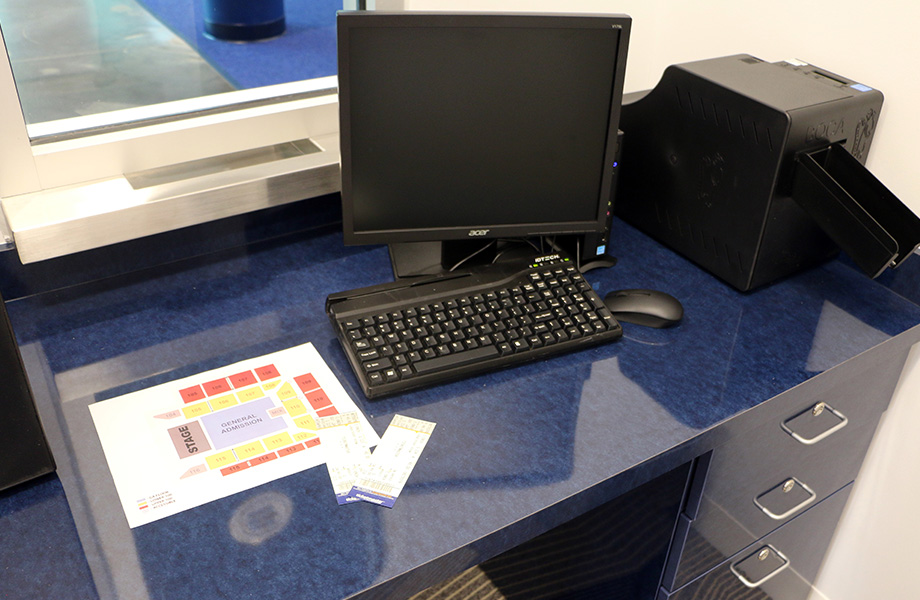 (Text and photographs provided by Tom Bourke, Distributor Service Inc.)
In the world of college sports, universities compete against each other not only for championships, but also for top-notch student athletes. When Robert Morris University wanted a new 4,250-seat event center to help attract talent to its basketball and volleyball teams, it turned to its designer of record, Ross Bianco, Architect to envision the facility's administrative areas, ticketing booths, locker rooms and public spaces.

"We wanted to provide a wow-factor while keeping uniformity with the Robert Morris University Colonial's color scheme of blue and red," said interior designer Randi Bayer. "So, I selected several variations of Formica® Brand HPL for its aesthetic appeal as well as its durability."

Knowing concession stands would be some of the most heavily trafficked areas, a front-facing counter featuring Formica® Natural Maple 756, with textured metal and an accent strip of Formica® Grenadine 6902 was designed to project a present-day appeal and to help draw in hungry customers. "We like to use maple to provide the look of modern, clean casework. Plus, Formica® Woodbrush™ texture has an inviting allure while giving the HPL an authentic wood grain appearance and texture," Bayer said.
Storage cabinetry made from Formica® White Ash 8841 was installed behind the concession stand counters. Some countertops were laminated with Formica® Storm Teakwood 8908 while others were topped with Natural Maple 756. And, a rich, gloss-finish Formica® Reclaimed Denim Fiber 9271-90 was selected to be out in front at multiple condiment application stations as well as the inside of several ticketing booths.

"As enthusiastic sports fans squirt mustard, ketchup and relish onto their hotdogs, some of it is bound to end up on the countertop," Bayer said. "I specified the glossy Reclaimed Denim Fiber due to its blue colour and also because I know that the laminate is durable and easily sanitized by typical cleansers."

Several restrooms continue the blue school colour theme capped with a Formica® Tinted Paper Terrazzo 8812 countertop. And, cabinets in the administrative offices also feature White Ash 8841 high-pressure laminate with Storm Teakwood 8908 countertops.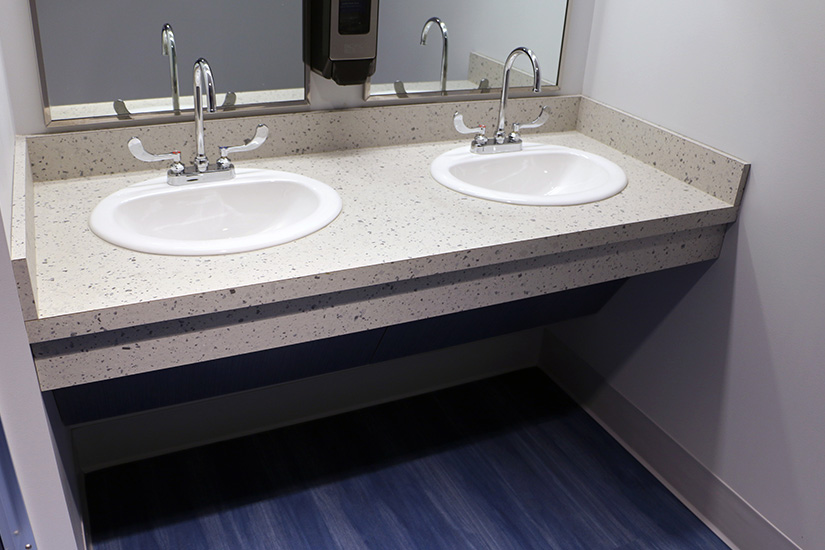 Designing and specifying Formica® Brand laminates was just the first step. Once the planning and bidding phase was complete, Giffin Interior & Fixture, Inc. began the task of fabricating the components.

"When I see Formica® Brand in a specification, I know that the material will be readily available and that there will be short lead times," said Giffin project manager Michael Atkinson. "Also, the laminate is easy to lay up, it machines great and there is no problem edgebanding it."

As a Robert Morris University alumnus, fabrication shop owner Dustin Giffin was proud to work on the interior of the new event center. "I was excited to see our school colours represented in the laminated cabinetry that we built," he said. "For years to come, people attending basketball games, concerts and other events will see the school spirit in the Formica® Brand laminate we used."

The new Robert Morris University UPMC Events Center held its grand opening ceremony May 10. Project Planner Karin Martin, explained that the arena will host men's and women's basketball games, women's volleyball contests, public speakers, conventions, expos, concerts, graduation ceremonies and more. "Thanks to the materials the designers selected and the quality of the fabrication, I'm confident that the entire student body will be proud to cheer on the Colonials at their new facility."