Cleaning Formica® Writable Surfaces
Define your space with Formica® Writable Surfaces. A great way to share your identity on the surface of your home. With proper care these surfaces will inspire for many years to come.
Let your home speak for you. Literally.
Writable Surfaces®Formica is a collection of patterns that inspire writing and sharing expressions of love, life, friendship, personal identity on many surfaces of the home.

Interestingly, White markerboard can be used horizontally or vertically.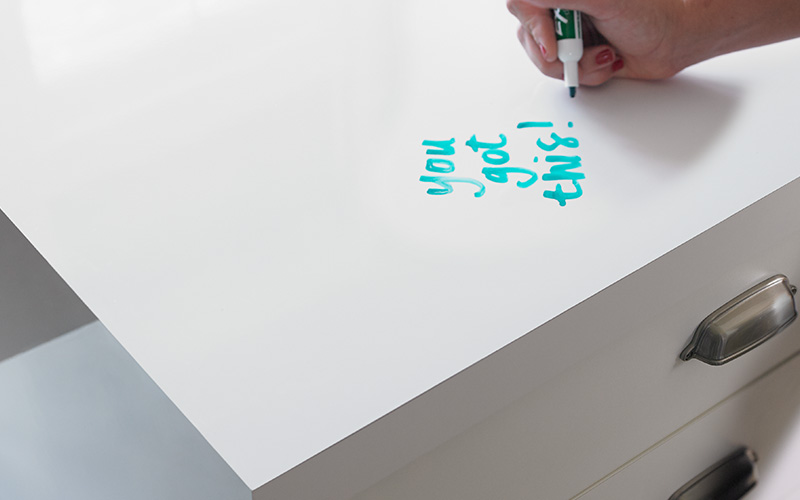 Four patterns in the collection feature a markerboard surface. Using dry erase markers, the ability to transform your space is only limited by one's imagination. While the ColorBook pattern offers a background that can easily be colored again and again, one could also use the empty white canvas to create a masterpiece of any design. Simple notes and reminders can be easily erased with a 'white-board' eraser or cloth.

Marker left on the surface for long periods of time may require more effort to clean. If your surfaces are being utilized often, shadows and ghosting may occur. When a damp cloth and mild detergent prove inadequate, employ a markerboard cleaner and conditioner specifically designed for dry erase surfaces. Stubborn marks may require alcohol or acetone for a tougher clean.
The kitchen is the perfect place to add a chalkboard for menus, recipes, or grocery lists.
Formica® Writable Surfaces collection also offers a classic black and a modern gray chalkboard. Turn a wall, cabinet, or tabletop into the perfect blank slate ready to be altered with one piece of chalk. As with most school chalkboards, these surfaces can be wiped clean with sponge and water. Stubborn marks may require alcohol or acetone for a tougher clean.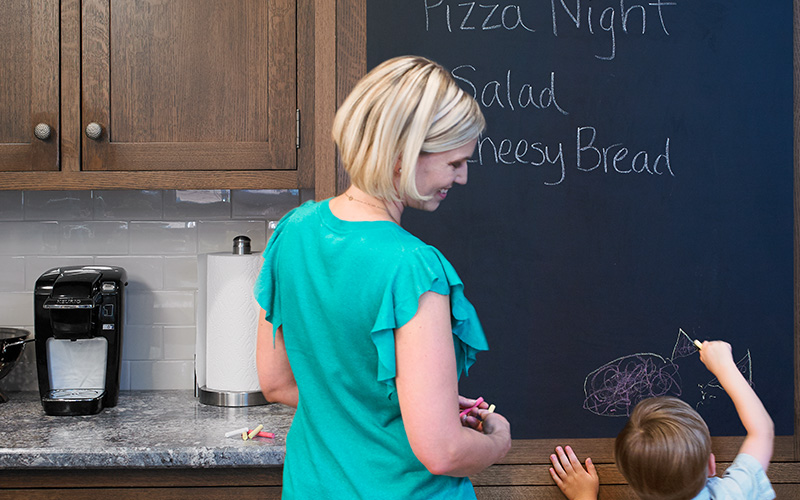 Cautions:
Do not polish or wax the surface.
Use of abrasive cleaners, powders, scouring pads, steel wool, sandpaper etc., will damage the finish and permanently reduce the performance of the decorative dry erase surface.
Acid or alkaline-based cleaners, compounds, etc., will mar, etch, corrode and permanently discolor the decorative surface. Never use these materials on magnetic dry erase boards, nor allow containers, rags etc., contaminated with them to come in contact with the surface.
Accidental spills or splatters should be wiped off immediately and the area cleaned with a damp cloth.
Never use detergents such as washing-up liquids to clean the surface because they usually contain fatty substances for the skin. A greasy film can remain on the surface making it extremely difficult to clean the surface.
Chalkboard markers can be used on this surface. Formica Group does not recommend using blue or black chalkboard pens on Gray ChalkAble™ as it causes ghosting. You should always test your chalkboard pen for ghosting on a small area before using on the larger surface.


Formica® Writable Surfaces are a new and highly desired way to bring conversation pieces into the living space. The collection offers a premium look that is more durable than paint with the proper care and maintenance. With Formica® Writable Surfaces, we make it writable, you make it memorable.